Blog -Thursday from Oceans of Hope
Lysekil disappeared behind us under grey clouds and we optimistically raised the sails only to watch then flap gently. Not much wind for sailing but beautiful all the same to navigate through the narrow channels between islands and relax on deck. As a bonus a seal raised its nose to watch as we passed by. Everyone is working well as a team.
We arrived at the gorgeously lovely little harbour at Mollösund in the early afternoon and set about filling up with Diesel. Not an easy job as the boat could not quite come alongside as the water was too shallow. The Skipper found us a mooring spot which was just, but only just, long enough for Oceans of Hope. Yet again, it is clear how lucky we are that Morten has volunteered to be our skipper for the trip. Thank you, Morten.
A late lunch was followed swiftly by treats onshore, ice-creams and coffee while exploring the harbour. The dingy was launched and Benedicte and Lykke made the crossing to the next door Island, dodging cruisers with skill!!
With the sun making a late appearance we found a beautiful swimming place complete with diving boards and I had my first dip with Maria, our keenest swimmer. Michelle and Lykke were so inspired that they made a splash by diving off the 6m board. Go girls!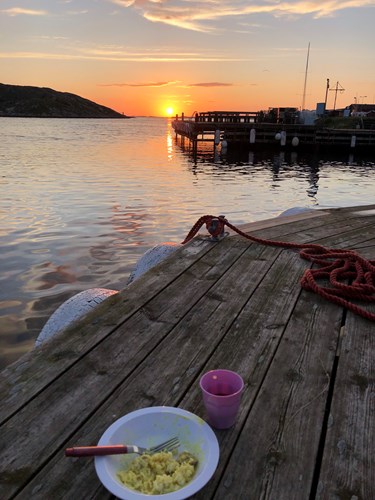 Sunset was the best yet and we appreciated the local scenery from the deck with a glass of wine in hand.
A perfect day.