Right now Oceans of Hope is on a sommercruise around Denmark and Sweden.
For the first time since corona we also have M/S participants from Australia, Portugal, England, Germany and The Netherlands.
You can also follow our trip on facebook https://www.facebook.com/OceansofHope


If you want to follow us, you can use this link, so see where we are RIGHT now. You have to write "Oceans of Hope" in the search box.
https://www.vesselfinder.com/da
Here you can watch a video with our two M/S crew Rolien and Thea from The Nederlands.
Here you can watch a video with Ray from Australia
https://youtu.be/idRLpmUzbHo

Read a blog from Ray from Australia

Read a blog from Camilla from UK

Here is a blog from Gitte, one of the participants this year:
Oceans of Hope is the name and optimism is the intention! This is exactly what I have encountered on this summer sailing trip – hope and optimism!
As a lubber like myself that never sailed before, I had lots of unanswered questions like: Are we sleeping in hammocks? Do you pee in black buckets? And what if it's bad weather and you get seasick? But I just packed what I thought made sense according to our packing list and hoped for the best.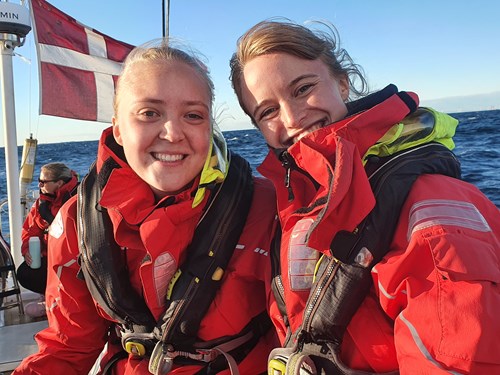 All my hopes of experiencing Denmark from the sea, of meeting a competent crew and great people in the same situation as myself – well, they were all fulfilled.
We were a wonderful bunch of guests with MS from several parts of the world. So, the language was a funny mix of Danish and English – "Danglish". As we boarded, we were greeted by a sweet Ausi accent that brought clear memories of a good old movie: Crocodile Dundee. And on top of that, our captain's name was Mick. It could only be an exciting voyage.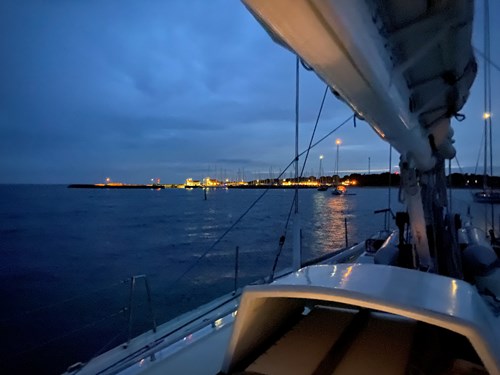 What happened then? Well, probably what always happens when sailing: making plans, setting sail, navigating, keeping a sharp eye on the cockpit instruments, learning how to tie knots, brewing coffee, keeping order and cleaning but most of all having fun and engaging in meaningful conversations. The crew on board helped with high spirits, and of course there was room for a break when needed. By the way, we did not sleep in hammocks but in cabins, the black buckets had been replaced with two small toilets and regarding seasickness – well that was not a problem for anyone.
And what were the take homes? Well, Crocodile Dundee would probably have said "comradeship mate" – this expression would be comprehensive of what went on throughout the voyage. There was lots of joy on board and a great opportunity to challenge your limits at sea. For example, I was involved in setting sails, coiling ropes, sailing the ship between buoys and fishing nets, tying knots, jumping in "the deep blue" from the ship and lots more.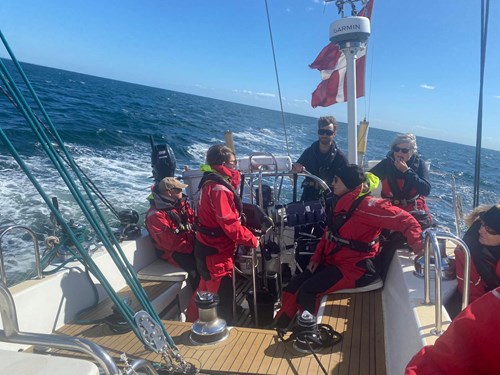 We had rain, sun, wind and mirror calm seas. So we experienced sailing from many sides just in a few days. All in all, a completely unique experience for me as the only landlubber on board – an experience with good social relationships and not the least lots of different and stimulating conversations with all on Oceans of Hope.