Blog from Camilla Veale UK
Frederikshavn to Samsø

Well there were 11 women and one man Mathis Skydt (Skipper) on board at the beginning. But once we realised there were 5 Danish women professional sailors on board we decided we didn't need Mathis anymore so we put him in the dingy with some provisions and a GPS
and sent him back to Frederikshavn.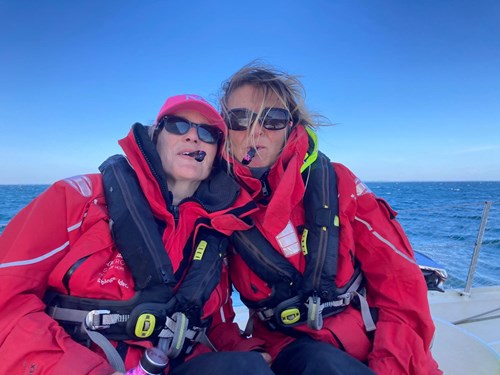 So now Mathilde Schmidt is Skipper and Cecilie Amtoft is first mate. Nicoline Pedersen decided to stay with us as we are such fun as an all women crew !

Seriously, Mathis is now an honorary woman and is still captain of the ship.
We have two more professional crew Tilde Ellemose and Laura Sleiman who are also just fantastic.

The crew with MS are from a variety of countries, Evgenia Arvaniti from Greece living in the Netherlands, Karin Helders from the Netherlands, Camilla Veale from the UK, Eva Gerwing  and Katharina Haug from Germany and Nina Gregersen from Denmark. Thank goodness for me the boat's official language is English !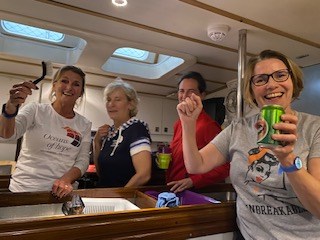 The first day's sail was fantastic ! In sunshine with a westerly wind of average speed of 10 metres per second we averaged a speed of 8 knots. So we only took 13 hours to cover 102nm to Samsø.
Mathis and the professional crew were fantastic in helping all the MS crew and helped us all get around the yacht if we needed it. They also helped us if we didn't feel too well !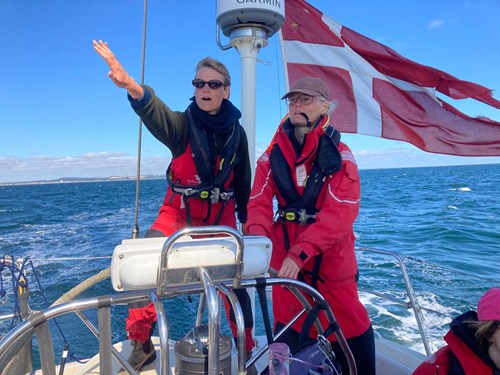 We all had a go at an aspect of sailing, hoisting the main, furling out the Yankee and staysail and of course helming.
It was an consistent westerly wind so we had an easy reach all the way which helped our speed. It was worth leaving Frederikshavn early to anchor at 10pm after a beautiful sunset.